THE TOP 2 REAR
DELTOID EXERCISES
By Sean Nalewanyj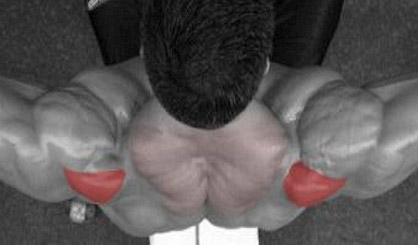 The rear delts don't get enough respect.
Most lifters spend plenty of time hammering their front and side delts through heavy chest and shoulder pressing, front raises and side lateral raises, but end up totally neglecting their rear delts in the process.
This has two main consequences...
1) You end up limiting the amount of total shoulder size and strength you can develop, since you're ignoring one of the three heads that make up this complete muscle group.
2) Just as importantly, you greatly increase your chances for shoulder injury. When your front delts become over-developed in comparison to the rear head (such is the case in the majority of bodybuilders), your shoulder joint ends up rolling forward and out of place.
This puts a lot of stress on those all-too-delicate rotator cuffs, and turns your entire shoulder joint into an injury-prone ticking time bomb.
Yes, your rear delts will receive stimulation during your rowing exercises for back, but for proper size and strength development you should definitely be including some direct isolation work as well.

The Top 2 Rear Deltoid Exercises
The rear delts are a relatively small muscle group and there is no need to perform an endless number of different exercises and variations in order to properly stimulate them.
There really are only 2 main rear deltoid exercises you'll need to include in your routine...

#1: Bent Over Rear Lateral Raises
This is a direct isolation lift for the rear deltoid and can be performed using a dumbbell or cables.
You'll start off in a bent over position with your upper body just above parallel to the ground, and will then raise the resistance out to your side.
Here are some very important tips to get the most out of this awesome rear deltoid exercise...
Tip #1: Stick to cables rather than dumbbells. While both tools will be effective, a dumbbell provides minimal to no resistance in the lower half of the exercise due to the force of gravity. A cable will keep constant, consistent tension on the rear delt throughout the entire exercise.
Tip #2: Focus on pulling the weight with your elbow rather than your hand.
Tip #3: Perform every rep under strict control and stick with a moderate weight for a slightly higher rep range between 8-10.
Tip #4: Allow your shoulders to relax and hang forward throughout the exercise. When your scapula retracts, the tension is taken off of the rear delt and is placed onto your rhomboids, traps and other smaller muscles of the upper back.

#2: Face Pulls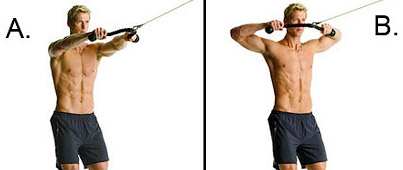 Face pulls are a less common, but hugely effective exercise that should be included in any well rounded bodybuilding routine.
Not only are they one of the best rear deltoid exercises you can perform, but they also stimulate your traps and other upper back muscles to further counteract that anterior/posterior imbalance I mentioned earlier.
Face pulls are performed using a rope attachment and are essentially a row that is pulled towards your face.
Here are 3 important tips to always keep in mind on this exercise...
Tip #1: Always pull through your elbows rather than your hands, and focus on driving your elbows outward and away from each other as you pull the resistance towards your face.
Tip #2: Avoid heavy, low rep sets and instead perform your face pulls using a moderate weight for around 8-10 strictly controlled reps.
Tip #3: Pause briefly at the end of each concentric rep and squeeze the muscles of your upper back, focusing on pinching your shoulder blades together.

The Top 2 Rear Deltoid Exercises: Quick Review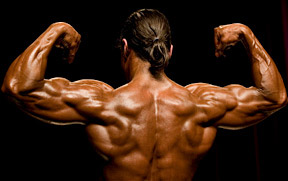 When it comes to proper rear delt development, that's all you really need.
Perform 2-3 sets of bent over rear lateral raises (preferably using a cable rather than a dumbbell) and 2-3 sets of face pulls in combination with all of your rowing exercises for back.
These exercises should be executed using about 8-10 reps and can be performed 1-2 times per week for the best results.
Including these lifts will help you build a rounder, thicker set of shoulders and will help to prevent injuries as well.
- Sean


Make sure to check out my fully structured, step-by-step muscle building and fat burning systems below...